Greetings to Customers,
I would like to express
my sincere gratitude to our customers.
Yikang Marine Services Co., Ltd.
was established as a leading supplier of Large diesel engines spare parts for ship propulsion systems and stationary power supply on DOOSAN Engine (HSD Engine). It is also one of the leading suppliers of diesel power plants and Turbochargers of STX Engine Co. since 1978 at Pusan, Korea.
In addition, with the acquisition of ISO 9001 in 2004 as a diesel engine spare parts supply in Korea, we demonstrated the superiority of our quality manage ment system.
With the strongest importance on customer satisfaction,
Yikang Marine Services Co.,Ltd.
will continue to be the leading parts supplier of diesel engine.
Thanks for your attention.
J. S. Kim / President
Memberships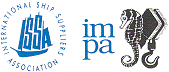 - International Ship Suppliers Association

(ISSA)

- International Marine Purchasing Association

(IMPA)

- Ships' Supplies Register

(SSR)

- Korea Foreign Trade Association

(KFTA)

- Pusan Port Concerning Association

(PPCA)

- Ulsan Port Concerning Association

(UPCA)